This week, End Citizens United joined several organizations to fight yet another instance of the Koch brothers squandering public institutions for personal gain.
The Koch brothers and their companies have spent millions of dollars misleading the public about the science of climate change. Yet, after making a massive contribution to the Smithsonian Museum of Natural History, David Koch landed a seat on its board.
Since then, the Smithsonian has come under fire from the science community, particularly after naming an exhibit after David Koch that downplays the risk of human-caused climate change.
Many of the world's best scientists — including several Nobel Laureates — have penned an open letter to have the Kochs and their ilk removed from these institutions:
"When some of the biggest contributors to climate change and funders of misinformation on climate science sponsor exhibitions in museums of science and natural history, they undermine public confidence in the validity of the institutions responsible for transmitting scientific knowledge. This corporate philanthropy comes at too high a cost.
Drawing on both our scientific expertise and personal care for our planet and people, we believe that the only ethical way forward for our museums is to cut all ties with the fossil fuel industry and funders of climate science obfuscation.
—An Open Letter to Museums from Members of the Scientific Community
End Citizens United sprung to action. Over 75,000 ECU supporters signed the petition to demand the Smithsonian remove David Koch. Wow!
Yesterday, when the Smithsonian Board of Regents met in DC, they were greeted by over 50 protesters demanding Koch's removal from the Board. ECU joined in to deliver signatures and demand action!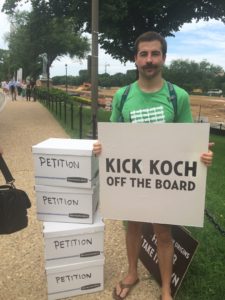 Kicking David Koch off the Board of the Smithsonian won't overturn Citizens United. It is, however, another way grassroots supporters are fighting back against corporations hijacking public interests.
Whether it's buying democracy or our public museums, the Koch brothers must be stopped.