End Citizens United PAC is excited to announce our first endorsement: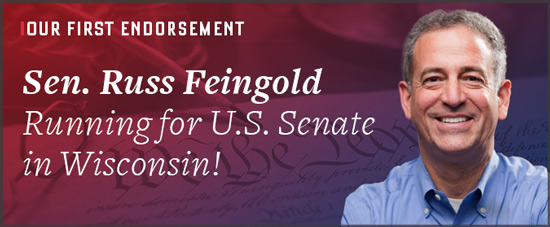 To be honest, this was a bit of a no brainer. Here's just a few reasons Russ was a clear choice:
— Russ has always been a leading voice against unrestrained money in elections. He's perhaps best known as one of the lead co-sponsors for the 2002 Bipartisan Campaign Reform Act.
— Russ was one of the first candidates to fill out the official ECU candidate questionnaire — and it's clear from his answers that he's continuing his commitment to reform.
— Hundreds of our supporters petitioned us to make Russ our first endorsement.
But being strong on these issues also means Russ is an enemy and a target for Big Money Republicans. He'll need all the support we can give to help his campaign against Koch-backed Senator Ron Johnson start off strong.
We have to elect candidates who are willing to buck the trend of Big Money in politics. Let's give reformers like Russ Feingold the support they need and build a coalition in Congress that will end Citizens United once and for all.
Donate $5 to help Russ win right now: http://act.endcitizensunited.org/Support-Russ