ECU is leading efforts to encourage candidates and members to refuse corporate PAC money
Congressman Cicilline is the first member of House Democratic Leadership to take this position as an unprecedented number of candidates and an increasing number of House members are refusing to take money from corporate PACs. As a result of the pledge, Congressman Cicilline is estimated to lose over $100,000 in campaign contributions from corporate PACs each campaign cycle.
"Throughout his career, Congressman Cicilline has worked hard to break the connection between money and politics. As Mayor of Providence, he refused to accept campaign contributions from city employees or those doing business with the city, and also implemented the City's first Ethics Code. Today's decision to reject corporate PAC money is just another example of Congressman Cicilline's dedication to the people of Rhode Island and not the corporate special interests," said ECU President Tiffany Muller. "End Citizens United thanks Congressman Cicilline for his leadership and tireless work in standing up and speaking out against Big Money."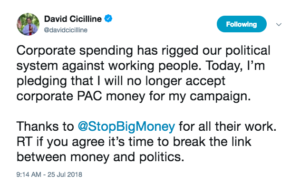 Congressman Cicilline's decision makes him the first member of House Democratic  leadership to reject corporate PAC money, joining other House members including Representatives Ro Khanna (CA-17), Tulsi Gabbard (HI-02), Beto O'Rourke (TX-16), John Sarbanes (MD-03), Pramila Jayapal (WA-07), and Jared Polis (CO-02). In total, ECU is aware of more than 140 candidates this cycle who are rejecting corporate PAC money, as reported in USA Today recently.
As the ranking member on the House Judiciary Committee's Subcommittee on Regulatory Reform, Commercial, and Antitrust Law, Congressman Cicilline has a record of taking on the corporate interests. His work as a representative has included introducing the 2018 DISCLOSE Act with Senator Whitehouse and co-sponsoring the We The People reform package.
End Citizens United is dedicated to getting Big Money out of politics and fixing the rigged system in Washington so it works for all Americans. It is working to elect members of Congress, like Representative Cicilline, who will fight to overturn Citizens United and pass meaningful reforms. ECU has over four million members, including 6,000 in RI-01, and is entirely grassroots-funded with an average donation of just $14.
# # #