End Citizens United (ECU) // Let America Vote (LAV) Action Fund launched a new TV ad in New Hampshire as part of its $1 million ad campaign in the state to promote the For the People Act (H.R. 1/S. 1) and thank Senator Maggie Hassan for supporting the bill. The TV ad comes as the Senate prepares to vote on the anti-corruption and voting rights legislation that would prevent dark money from corrupting American politics and protect the fundamental right to vote. The ad will air on local broadcast, cable, and streaming platforms in New Hampshire. Senate Majority Leader Chuck Schumer said he plans to bring the bill to the Senate floor the week of June 21st.
Click here to read coverage of the ad from WMUR's John DiStaso.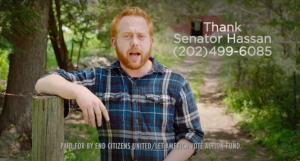 Full Script of the ad:
Small family farms like ours,
We've been shaping New Hampshire for generations.
But Washington keeps forgetting that.
Corporate special interests and their lobbyists have all the power.
Maggie Hassan is fighting to change that.
She supports the For the People Act.
It cracks down on corruption
And it gets big money out of our elections,
So that everyone can have a voice,
No matter who you vote for.
Thank you Senator Hassan, for putting people first. 
Earlier this spring, ECU // LAV Action Fund and the National Democratic Redistricting Committee announced a $30 million campaign to pass the For the People Act. The campaign includes television and digital advertising; major grassroots activation, including putting boots on the ground in key states; and grasstops education and outreach. The campaign is funding key national and local allied organizations––from good government and voting rights groups to a wide array of issue advocacy groups. This historic investment is harnessing the grassroots energy for unrigging the system in Washington to make it work for everyone, not just those on top, and will make it clear to the Senate that we must pass this bill.
###