Dean Phillips, candidate for Minnesota's 3rd Congressional District, highlighted his platform to unrig Washington and get money out of politics in an interview with WCCO CBS Minnesota yesterday.
Phillips discussed his challenge to Congressman Paulsen to sign the "The Minnesota Way" pledge, a commitment to keep special interest money out of the MN-3 race and be accessible to voters. Phillips is running his campaign free from the influence of all PACs, special interests, and federal lobbyists.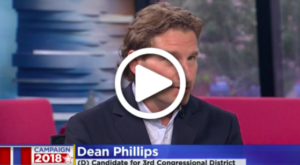 "I think we have a Congress that's been bought and sold by special interests. Particularly, Erik Paulsen who's one of the biggest recipients of PAC dollars in the entire U.S. Congress. And I think it's time that people be exposed to the truth — I'm on a mission to do so — and recognize that we have a responsibility, every one of us running for office, everybody serving in Congress to forgo the influence of special interests in favor of the common interest and that's what this campaign is entirely about." – Dean Phillips
ECU endorsed Phillips last September because of his commitment to unrigging the system and in May, ECU President Tiffany Muller traveled to the district to campaign with Phillips. The group named Rep. Erik Paulsen to its Big Money 20, a list of Washington's worst politicians who serve the interest of their big donors at the expense of the American people.