16 ECU-endorsed challengers who reject corporate PAC money outraised their incumbent opponents who take corporate money
According to the latest FEC reports, 16 End Citizens United-endorsed challengers who are rejecting corporate PAC money outraised their incumbent Republican opponents. As voter desire to get Big Money out of politics grows, an increasing number of candidates are demonstrating their commitment to reform by rejecting corporate PAC money.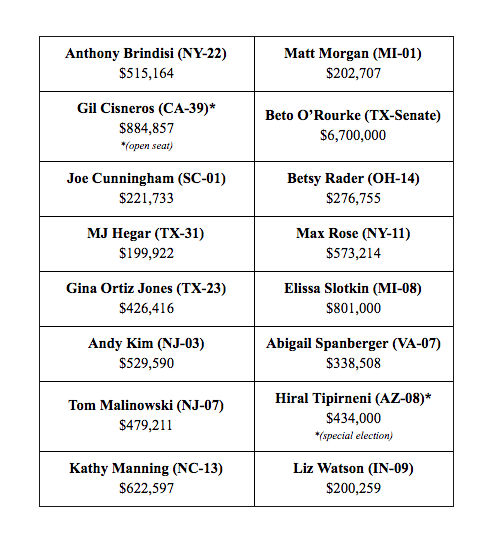 "By rejecting corporate PAC money, these candidates are proving to voters that they are committed to getting Big Money out of politics and reforming the rigged system. In turn, they're earning an unprecedented wave of grassroots support," said ECU President Tiffany Muller.
With a recent Gallup poll showing that 90% of Americans believe the government is working for the benefit of a few big interests, a robust reform agenda is critical to winning support from voters, particularly independents. Notably, ECU polling has found that 62% of voters believe that a candidate refusing corporate PAC money is a sign that the candidate is serious about reform. In the recent Pennsylvania 18 special election, Conor Lamb rejected corporate PAC money and touted his commitment in several campaign ads and literature. ECU conducted a post-election poll that found Lamb's decision to reject corporate PAC money was the main reason nearly one-fifth of Lamb voters supported him.
# # #