Part of a six-figure ad buy to educate voters in CA-45
The digital ads will run from May 16 – 29
End Citizens United (ECU) today unveiled its first digital ad supporting Katie Porter in California's 45th Congressional District. The ad, titled "What's New," highlights Porter's history of holding big banks accountable and her commitment to reforming the rigged system in Washington. The ad is part of a joint six-figure digital ad buy made in partnership between ECU and EMILY's List.
"Katie Porter has the experience, determination, and grit to stand up to big banks and corporations who are bending the rules to protect their bottom lines at the expense of California families," said ECU President Tiffany Muller. "Voters in the district are hungry for a representative who will reform Washington, and Katie Porter is that leader. We'll continue to get the word out about her record and commitment to standing up to powerful special interests on behalf of families in the district."
The partnership between ECU and EMILY's List is intended mobilize and educate voters about Katie Porter ahead of the June 5 primary election in CA-45. The digital ads come on the heels of a targeted direct mail campaign.
Earlier today, ECU released a poll showing Porter leading Congresswoman Mimi Walters, the Republican incumbent, by 3 points — 46 to 43 percent.
The ad, targeting Democratic and independent women, will run from May 16 through May 29.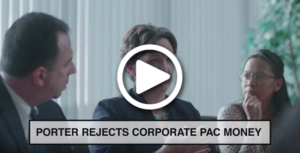 Click here to watch the ad.
Click here for supporting information for "What's New."
Full script below:
VO: Billionaires and huge corporations spend tens of millions on lobbyists every year – that's not new.
VO: What is new? Billionaires and huge corporations spending unlimited amounts to buy elections.
VO: All to protect a rigged system that's lines their pockets at the expense of the middle class.
VO: Senators Elizabeth Warren and Kamala Harris know this fight better than anyone, and they endorse Katie Porter for Congress.
VO: Katie held the big banks accountable, winning over 18 billion for homeowners.
VO: Katie rejects corporate PAC money because she's running to fight for families, for Medicare for All and to protect a woman's right to choose.
VO: Katie Porter for Congress. She's for us.
#  #  #