End Citizens United (ECU) is proud to have been an early supporter of Katie Porter's campaign. Porter, a champion of California families, is not taking corporate PAC money or money from Big Banks, Big Oil, or Big Pharma. She is making campaign finance reform a central issue in her campaign, and ECU has made it a top priority to get her to Congress.
The CA-45 race was the first time that ECU made an independent expenditure in a primary.
Porter Thanks ECU's Grassroots Members
In a new video, Porter thanked ECU's grassroots members for their support and hard work that helped her win on Tuesday.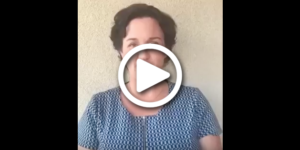 ECU Teams Up with EMILY's List
In May, ECU and EMILY's List announced a partnership to educate voters in CA-45 about Katie Porter's progressive priorities and areas where incumbent Congresswoman Mimi Walters has failed California families. Together, the groups launched a six-figure direct mail and digital advertising program in the district, as well as an advocacy push to boost voter turnout.
Politico: FIRST IN SCORE – EMILY's List and End Citizens United team up for Katie Porter
"EMILY's List and End Citizens United are collaborating on a six-figure expenditure supporting Katie Porter, the Democrat challenging Rep. Mimi Walters in California's 45th District"
As part of this partnership, ECU unveiled a digital ad supporting Katie Porter. The ad, titled "What's New," highlighted Porter's history of holding big banks accountable and her commitment to reforming the rigged system in Washington, as well as her decision to reject corporate PAC money.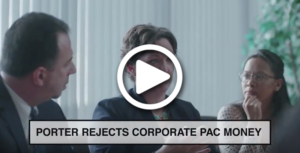 Stumping for Porter
In May, ECU President Tiffany Muller, along with EMILY's List VP of Campaigns Lucinda Guinn, traveled to California and campaigned with Porter.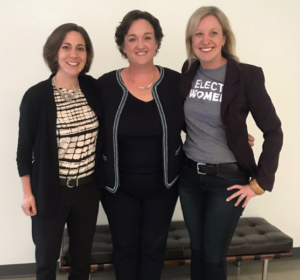 Polling
While the duo campaigned, ECU released a poll showing Porter leading leading incumbent Congresswoman Mimi Walters. The poll also found strong support for Katie Porter's commitment to reject corporate PAC money, with 66% of voters more likely to support a candidate who will not accept money from corporate special interests.
Small-dollar Fundraising
Since endorsing her campaign in February, ECU's network of grassroots members have contributed over $30,000 in small-dollar donations to Porter, with an average contribution of just $9.
Big Money 20
In December, ECU named Congresswoman Mimi Walters to its Big Money 20, a list of the group's top targets for defeat because they put the interests of donors ahead of their constituents.