Ahead of tomorrow's special election in Ohio-12, End Citizens United (ECU) released the memo below outlining its work in support of Danny O'Connor. ECU is proud to be an early supporter of Danny O'Connor, endorsing him in May and connecting its grassroots members with his campaign. The grassroots PAC has raised over $170,000 in small-dollar donations for O'Connor's campaign with an average donation of $9. ECU also worked with O'Connor to roll out his pledge to reject corporate PAC money, and worked to expose his opponent's reliance on corporate PACs.
Rejecting Corporate PAC Money: 
In June, O'Connor took the bold step to highlight his commitment to reform by announcing that he is forgoing corporate PAC money in his campaign. ECU worked with his campaign to roll out the announcement. By rejecting the money, O'Connor demonstrated to voters that his priority in Congress will be Ohio families, not special interests.
O'Connor incorporated his message of reform on the stump and in digital ads, helping draw the distinction between him and his opponent. In The Columbus Dispatch's unprecedented endorsement of O'Connor, the paper cited his focus on "[breaking] the influence of special interests that are 'dictating the conversation' and his decision to not take contributions from corporate PACs.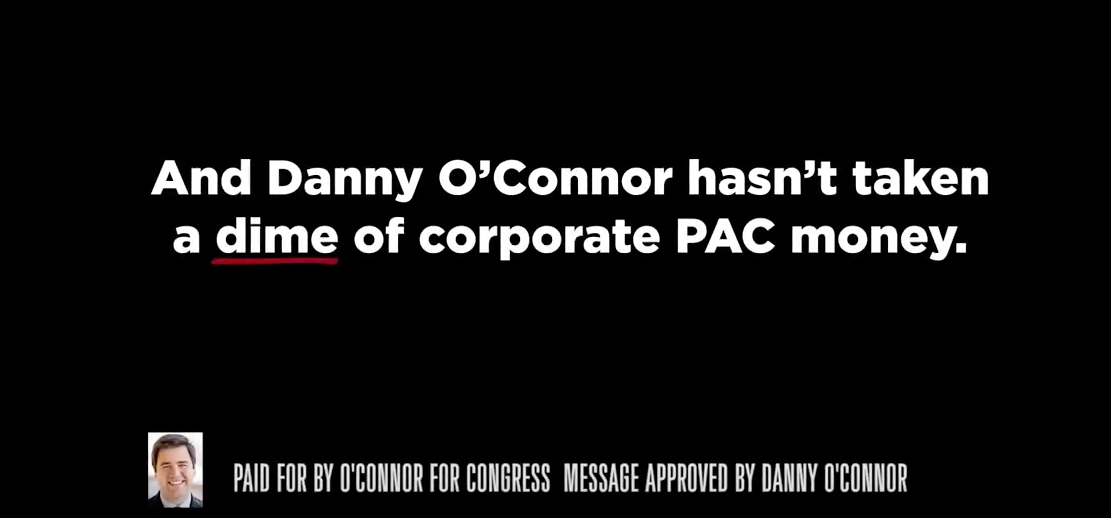 a href="https://www.youtube.com/watch?v=SPupo1AfOuo">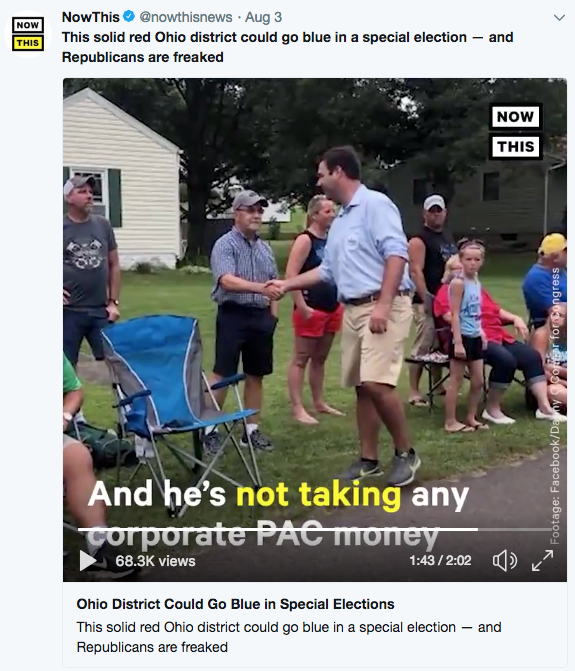 Cleveland.com, Jackie Borchardt:
"At least six Ohio Democratic congressional candidates so far (none of whom are incumbents) have pledged not to accept any corporate PAC money, according to the group End Citizens United. Danny O'Connor, the Democratic nominee for Ohio's 12th Congressional District, added his name to the list on Tuesday."
Exposing Balderson's Record:
As O'Connor promoted his commitment to reform, ECU put Troy Balderson's reliance on corporate PAC contributions on display, exposing him for taking over $120,000 from corporate PACs.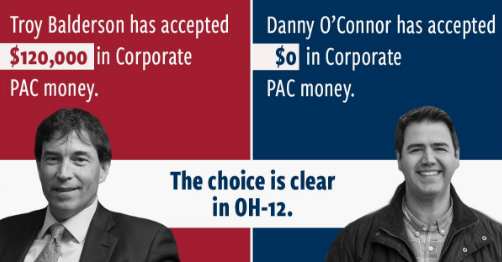 ECU: OH-12 Countdown: Counting Up Balderson's Corporate PAC Money
"With two weeks until the special election in Ohio's 12th Congressional district, the race is shaping up to be a battle between the grassroots and corporate special interests. While End Citizens United endorsed candidate Danny O'Connor is rejecting corporate PAC money, his opponent Troy Balderson has raked in $120,900 from corporate special interests."
Small-dollar Fundraising:
Since endorsing his campaign in May, ECU's network of grassroots members have contributed more than $170,000 in small-dollar donations to O'Connor, with an average contribution of $9.
The Hill, Lisa Hagen: Trump visits Ohio in waning days of nail-biter House election
"O'Connor has also had help. The Democratic Congressional Campaign Committee (DCCC) has spent around $340,000 in the race, and groups like Progressive Turnout Project, End Citizens United, House Majority PAC and Priorities USA have also gotten involved."
In a district that many described as a safe Republican seat, ECU commissioned the first public poll of the race, showing that the race was within the margin of error. ECU's latest poll, released in July, echoed these findings and showed that O'Connor's commitment to reform boosted his candidacy.
Trump carried Ohio-12 by 11 points, but Danny O'Connor and his commitment to reform has made it a competitive race. Tomorrow is a face-off between a status quo candidate backed by Big Money special interests and a grassroots champion who will fight for Ohio families.
#  #  #