While receiving over $80,000 from the big health insurance and pharmaceutical industry over the course of her political career, Martha McSally rallied Republicans to pass the American Health Care Act. That bill would repeal the Affordable Care Act, gut protections for preexisting conditions, and impose an "age tax" on older Americans that would allow insurers to charge them five times more than younger adults. McSally's vote for the Republican tax bill was a billion dollar windfall for big banks, big pharmaceutical companies, and other special interests. That's the return on investment McSally's billionaire and special interest backers were expecting. [Read more.]

ECU Endorsed Challenger: Mark Kelly
Kelly Loeffler's bought a U.S. Senate seat from Georgia's corrupt Governor in a backroom deal. Loeffler's promise to spend $20 million to defend her seat was a major reason for Governor Brian Kemp's appointment. Loeffler and her husband Jeffrey Sprecher, the chair of the New York Stock Exchange (NYSE), have donated $3.2 million to political committees –– 97 percent of which went to Republican candidates and causes. Loeffler and her husband have a history of contributing to Republicans involved in ethics, campaign finance, and other scandals, including to the campaigns of Big Money 20 members Sens. McSally, McConnell, Collins, Tillis, and Cornyn. Loeffler buying her way to the U.S. Senate instead of being elected by voters is Washignton's corrupt establishment at its worst. That's the return on investment McSally's billionaire and special interest backers were expecting. [Read more.]

ECU Endorsed Challenger: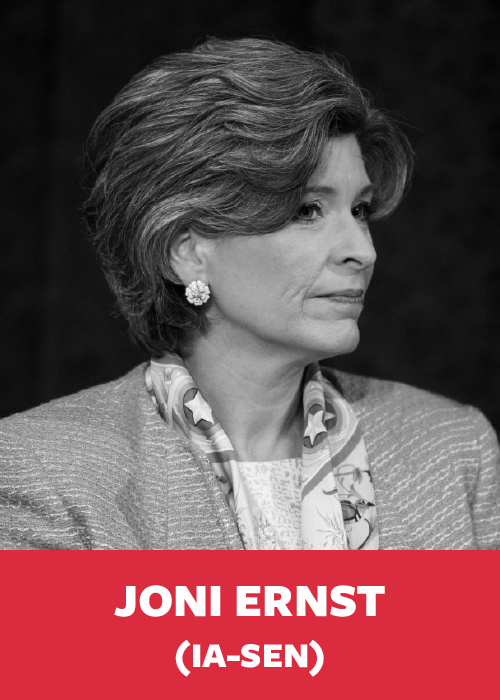 Most people have a network of grassroots supporters to be grateful for, but Joni Ernst has the Koch Brothers to thank for her seat in the U.S. Senate. Now, as Joni Ernst gears up for reelection, a front group funded by unlimited, secret, dark-money donors launched their campaign to deceive Iowa voters on Joni's behalf. The Kochs and their network backed Ernst when she was still an unknown state legislator, helping through her primary and in total, spent nearly $5 million supporting her campaign in 2014. Since then, she's broken her promise to go to DC and cut the fat and pork. Instead, she's become part of the corrupt DC establishment, working on behalf of her special interest donors. She has taken thousands from the pharmaceutical and health insurance industries, and voted to give them huge tax breaks while gutting protections for preexisting conditions, increasing premiums, and allowing insurers to charge older adults five times as much as younger people. She also supported the Republican tax plan, a massive giveaway to corporations and the wealthy. In the U.S. Senate, her voting record makes it clear that Joni Ernst is working for Mitch McConnell and her biggest donors, and not the people of Iowa. [Read more.]

ECU Endorsed Challenger: Theresa Greenfield
Through his decades in office, Senate Majority Leader Mitch McConnell has made himself the face of big money and Washington corruption. He has done everything within his power to kill meaningful attempts at reform, protect anonymous mega-donors, and ensure that big money, not the American people, drive public policy. He is the most corrupt Senate leader in memory and the symbol of a Washington establishment that has betrayed the American people. He has celebrated and defended the influence of corporate money, encouraged more big money in politics, and personally fought to protect the disastrous Citizens United ruling. McConnell is the architect of Washington's rigged system — a system that puts billionaires and corporations above the American people. McConnell represents the very worst of Washington politics. [Read more.]

ECU Endorsed Challenger:
After taking millions of dollars from corporate special interests, Senator Susan Collins has lost sight of who she's supposed to represent. Susan Collins has traded in being an independent voice for Maine for being a reliable vote for Mitch McConnell's corporate-backed insiders and special interests. Sen. Collins voted to pass the Republican tax bill while accepting nearly $3 million in campaign checks from corporate PACs, giving billions of dollars back to many of the same corporate interests have supported her campaigns over the years. When she's not working to cut corporate taxes, Collins votes for giveaways to the financial industry–which has given her more than $1.4 million–and protects them when they cheat Mainers. After spending more than two decades in Washington, Senator Collins has shown that she'll fight for her corporate backers at the expense of Maine families. [Read more.]

ECU Endorsed Challenger: Sara Gideon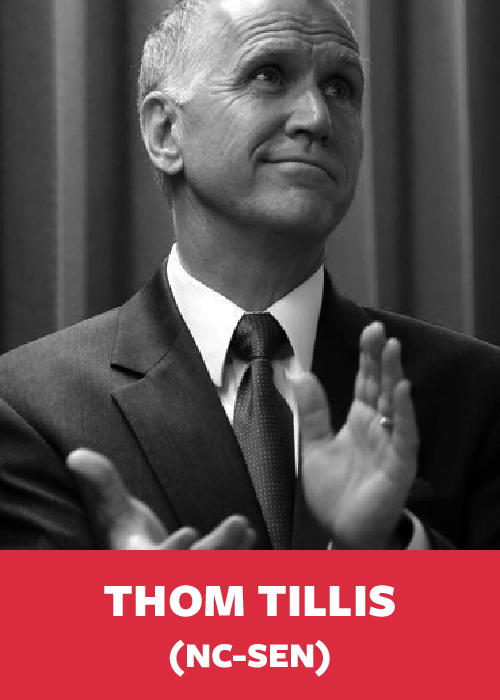 In 2014, Senator Thom Tillis' election saw the most outside spending in the country. And since 2015, less than five percent of his campaign money has come from small, individual donors. It's one of the reasons Senator Tillis is more interested in corporate special interests than North Carolinians – he knows how important they are to funding his campaigns and are essential to getting him reelected. In 2014, Tillis even welcomed the help of the single-candidate super PAC, Grow NC Strong, and a dark money group, Carolina Rising.
Over the course of his federal career, Senator Tillis has taken nearly $2.2 million from corporate PACs and has repeatedly taken the side of corporate special interests in Congress over North Carolinians. In his previous role in the North Carolina General Assembly – including as Speaker of the House – he bent the rules and searched for loopholes to accept campaign cash wherever he could. Then in the U.S. Senate, Tillis voted for the Better Care Reconciliation Act (BCRA), a Republican attempt to repeal and replace the Affordable Care Act. BCRA would have cut billions in taxes for big pharma and insurance companies, gut protections for preexisting conditions, increase premiums, and allow insurers to charge older adults five times as much as younger adults. Tillis also voted for the disastrous Republican tax bill, which cut taxes for corporations but will raise taxes for many middle class families, add a projected $1.9 trillion to the deficit, and threaten huge cuts to Medicare and Social Security. [Read more.]
ECU Endorsed Challenger: Cal Cunningham
In Washington, Sen. John Cornyn has been a strong ally of his special interests donors. Since being elected to the Senate, Cornyn has taken over $5.3 million from corporate PACs, $3.7 million from Wall Street, and over $800,000 from lobbyists. With that kind of support, it comes as no surprise that Cornyn is a reliable vote and advocate for the interests of the pharmaceutical, health care, and financial industries. As a senior member of Republican leadership, Cornyn shepherded the Republican tax bill through the Senate, ensuring billions in tax breaks for his corporate donors. As a pawn of the corrupt Mitch McConnell establishment, Cornyn refuses to put Texans ahead of Washington. [Read more.]

ECU Endorsed Challenger: MJ Hegar
Rep. David Schweikert is mired in corruption scandals, but that hasn't stopped him from pushing his corporate special interest donors' agenda. Schweikert has blurred the lines between his official duties and reelection campaigns, making him the subject of several ethics investigations regarding the misuse of taxpayer funds for personal activities and other violations of the law. He has taken over $500,000 from the financial industry and voted to gut Wall Street reform. He has also taken over $80,000 from the pharmaceutical and health insurance industries, and voted to gut protections for preexisting conditions and impose an "age tax" on older Americans that would allow insurers to charge them five times more than younger adults. Arizonans deserve better than a corrupt corporate shill representing them in Congress. [Read more.]

ECU Endorsed Challenger: Hiral Tipirneni
Rep. Duncan Hunter's corruption knows no bounds. Hunter, who has been indicted while in office and remains under investigation, is one of the most corrupt members of Congress. He has been accused of breaking the law by using over $250,000 in campaign funds to pay for personal vacations, a flight for his pet rabbit, and financing his extramarital affairs with multiple women, including congressional aides and lobbyists. Hunter's habit of using his campaign coffers as a personal bank account underscores his commitment to using his power and office to enrich himself while everyday families in his district are ignored. [Read more.]

ECU Endorsed Challenger: Ammar Campa-Najjar
Rep. Spano is the perfect example of what's wrong with Washington: a politician who uses his office for personal gain and enriching big donors while leaving Florida families behind. Before even taking office, Spano admitted he may have violated federal law by borrowing nearly $200,000 from two donors and then lending that money to his campaign. In case that wasn't corrupt enough, Spano allowed one of those donors to hire and fire staffers for his campaign and congressional office. These cozy relationships highlight Spano's reliance on big donors to keep him in office, as well as big money's influence over him. [Read more.]

ECU Endorsed Challenger: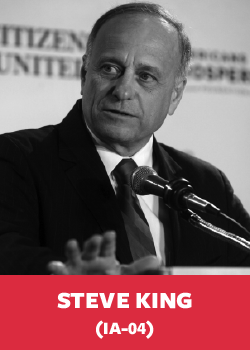 Rep. Steve King's corruption goes beyond his constant racist and hateful rhetoric that has made him a national embarrassment. King has received thousands of dollars from the most extreme fringe groups in politics, including one founded by a violent Neo-Nazi and another founded by a white nationalist and anti-Semite who believes in using eugenics for population control. We can't make this up, but we can defeat King and make sure this bigotry isn't allowed in Congress.

When it comes to Wall Street, Steve King has collected $350,000 from the industry and repeatedly taken their side in Congress. King has also spent taxpayer dollars to fund a lavish lifestyle in Washington and abroad. Throughout his time in office, King has spent more than $118,000 on taxpayer-funded trips abroad, where he met with prominent right-wing leaders and allegedly solicited the services of a "Chinese masseuse" while staying at the Ritz Carlton in Moscow. Meanwhile, King has voted to cut billions from services Iowans rely on, like unemployment insurance and food stamps. Steve King's family has also benefited from his corruption –– his campaign has paid them more than $805,000 as full-time staffers even during non-election years. [Read more.]

ECU Endorsed Challenger: JD Scholten
Representative Rodney Davis led Republican opposition to the most comprehensive anti-corruption and money-in-politics legislation since Watergate, but it's no surprise considering that special interests have buoyed Davis' entire political career. He has taken over $2.4 million dollars from corporate PACs and outside groups spent $2 million to keep him in office in 2018 alone. While families in Illinois struggle to afford the cost of healthcare and prescription drugs, Davis has been a loyal ally to Big Pharma and Wall Street, giving them billions of dollars in tax breaks. Rodney Davis chooses his big donors over his constituents again and again, and as long as they keep filling his campaign coffers, he'll protect them at the expense of Illinois families. [Read more.]

ECU Endorsed Challenger: Betsy Dirksen Londrigan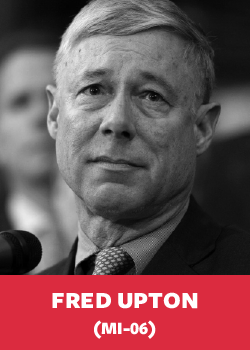 Rep. Fred Upton has been in Washington for more than 30 years and taken over $6.5 million in corporate PAC money since 2007. Having taken nearly $1 million in Big Pharma money, Upton is one of the reasons why Americans pay more for life-saving drugs than just about anyone in the world. The Michigan congressman has taken hundreds of thousands of dollars from drug companies that have dramatically increased the cost of insulin and other lifesaving drugs. When it comes to choosing between the interests of Michiganders or those of drug companies, Upton has chosen the latter. Fred Upton used his former role as chairman of the House Energy & Commerce Committee to block 12 bills that could have helped lower the cost of prescription drugs. Upton has also voted to give pharmaceutical companies massive tax breaks while gutting protections for preexisting conditions. Upton has twice nearly topped an industry publication's list of the most "pharma-friendly congress members." Fred Upton is also a close friend of Big Telecom and voted to allow the industry to sell customers' personal data without their permission. [Read more.]

ECU Endorsed Challenger: Jon Hoadley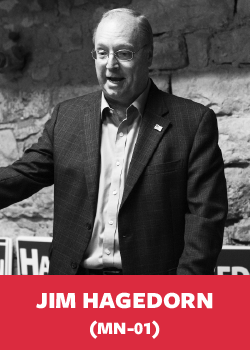 Jim Hagedorn would not be in office without his network of wealthy megadonors made up of CEOs, Wall Street bankers, and corporate special interest groups. After narrowly winning his 2018 campaign, Hagedorn has shown where his loyalties lie by consistently siding with corporate special interests over ordinary Americans, cosponsoring a bill his donors from the premium cigar industry pushed for, and working to dismantle the Consumer Financial Protection Bureau. Washington is broken and politicians like Jim Hagedorn are working to keep it that way. In Congress, Hagedorn has sold out to Big Oil and taken $21,000 from the industry while standing by as the Trump administration gives refinery waivers that hurt Minnesota farmers and shut down refineries in Southern Minnesota. Jim Hagedorn took $5,000 from Citizens United, the group responsible for the Supreme Court case that opened the floodgates to unlimited spending in our elections. Hagedorn has also taken over $100,000 in corporate PAC money over the course of his political career. Jim Hagedorn sides with wealthy corporations and special interests over Minnesotans. [Read more.]

ECU Endorsed Challenger:
Rep. Chris Collins is the poster-boy for political corruption and the corrupt Big Money Republican establishment. He was indicted for fraud and has used his seat in Congress to make himself and his big donors rich — and is facing a possible 150 year prison sentence for it. He pushed legislation to benefit a company he invested in, and then committed insider trading when the same company ran into trouble. He has been called "Big Pharma's biggest supporter in Congress," accepting over $72,000 from Big Pharma and consistently pushing legislation that would directly benefit the companies in which he has he has invested millions of dollars. New York families are being left to fend for themselves while Collins focuses on writing bills that he knows will make his own bank account bigger and giving tax breaks to billionaires and corporations that keep him in office. [Read more.]

ECU Endorsed Challenger:
If you're looking for hypocrisy and broken promises in Washington, look no further than Rep. George Holding. In 2012, Holding pledged to the voters of his district that he would not take money from special interests PACs — but then broke that promise before even being elected to Congress. Now, Holding is a corporate-backed politician who has taken over $2 million from corporate PACs, and has sold out to his donors by supporting the Republican tax bill and the disastrous Republican health care plan. Aside from his reliance on corporations, Holding is a big money trailblazer, being one of the first-ever candidates to have a personal super PAC spend money to help him win his seat. North Carolinians want someone who will keep their promises and be accountable to their district, and George Holding isn't the man for that job. [Read more.]

ECU Endorsed Challenger:
Rep. Chip Roy hasn't even served a full term in Congress and has already accepted $91,750 from corporate PACs and over $20,000 from lobbyists. Roy voted against the For the People Act (H.R. 1) in March, a once-in-a-generation anti-corruption and government ethics bill that would crack down on big money in our elections. This comes as no surprise, considering that, in 2016, Roy served as the Executive Director of a pro-Ted Cruz Super PAC (Trusted Leadership PAC) which supported Cruz's presidential bid. Trusted Leadership PAC raised money from various GOP-aligned megadonors and corporations, including Richard Uihlein, Richard DeVos, and Murray Energy Corporation. Chip Roy owes a large part of his career to corporate special interests and big donors, which is why he works for them in Congress, not Texans. [Read more.]

ECU Endorsed Challenger: Wendy Davis
While funding his campaigns with money from big-dollar donors, including $1.7 million from corporate PACs, Rep. Will Hurd has reliably voted for the priorities of corporate special interests in Washington. Hurd's vote for the Republican tax plan gave some of his biggest corporate donors, including Wall Street and the telecommunications industry, the handout of a lifetime. Hurd also voted to gut vital Wall Street reforms, voted to strip consumers of the right to sue when banks deceived them, and voted to dismantle and weaken the Consumer Financial Protection Bureau. Hurd's corporate backers can count on his support for their interests, but the people of the Texas 23rd congressional district can't. [Read more.]

ECU Endorsed Challenger: Gina Ortiz Jones