As voters head to the polls today in OH-12, Kansas, Michigan, Missouri and Washington, End Citizens United (ECU) is highlighting its endorsed candidates and their commitment to reforming the broken campaign finance system.
KANSAS:
Brent Welder (KS-03):
A committed reformer, Brent Welder is running a grassroots campaign that's focused on Kansas families and reforming the rigged campaign finance system. He knows that unlimited and undisclosed money in politics is giving corporate special interests outsized influence in Congress, which is why he's rejecting corporate PAC money. Welder supports the Democracy for All Amendment, which would overturn Citizens United and a series of disastrous Supreme Court decisions that unleashed a flood of money in politics. Welder is making reform a key pillar of his campaign, highlighting his work writing the democratic amendment to ban corporate money from campaigns in his first TV ad and including it in mail pieces.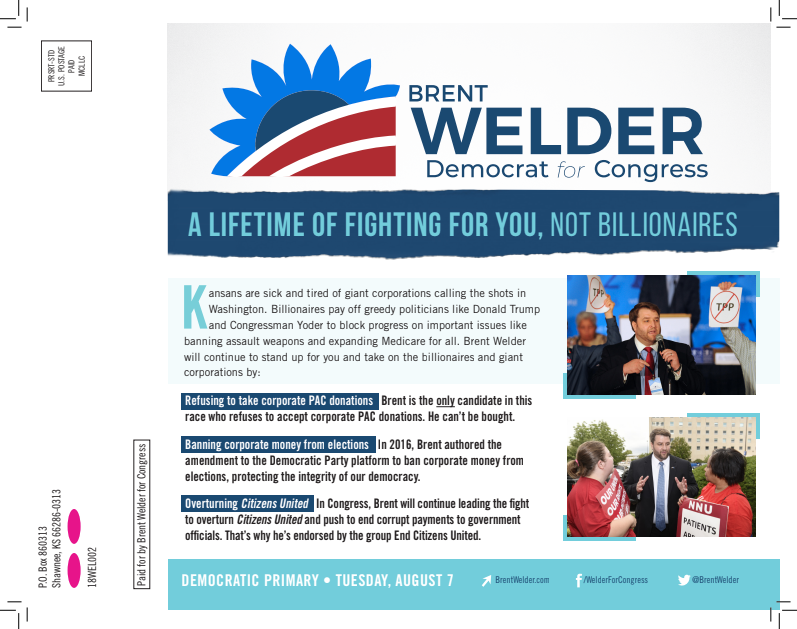 MICHIGAN:
Elissa Slotkin (MI-08):
A former national security leader, Elissa Slotkin is a principled leader in the fight to get big money out of politics, and getting the system to work for middle class Michiganders. She is making the issue of money in politics a key component of her campaign, and is highlighting her commitment to reform by rejecting corporate PAC money. Just last week, Slotkin announced her reform agenda aimed at curbing the influence of unlimited money in politics.
Leading up to the primary, ECU President Tiffany Muller traveled to the district where she campaigned for Slotkin and promoted her reform plan. ECU also launched a digital ad in the district to educate voters on Slotkin's commitment to rejecting corporate PAC money, as well as her background as a national security leader.
Slotkin's opponent, Congressman Mike Bishop, has a history of siding with corporations over constituents, and it earned him a spot on ECU's "Big Money 20" campaign — an effort targeting incumbent Republicans who represent the worst of Washington's rigged system.
Rashida Tlaib (MI-13):
A progressive advocate for getting corporate money out of politics, Rashida Tlaib is running for Congress to serve working people in Michigan. Tlaib knows that the amount of money in politics is corrupting the process, which is why she'll support legislation, like the DISCLOSE Act, to curb the corrosive impact of unlimited money in politics. Rashida also refuses contributions from federal lobbyists and corporate PACs.
MISSOURI:
Sen. Claire McCaskill (MO-Senate):
Senator Claire McCaskill has a proven track record of fighting to root out secret special interest money in elections. Whether it's supporting the DISCLOSE Act or a Constitutional amendment to overturn Citizens United — a decision she consistently calls the most corrupting influence our democracy has ever seen — Senator McCaskill is committed to combating Big Money in politics.
Cort VanOstran (MO-02):
An advocate for disclosure and transparency, Cort VanOstran believes unregulated corporate spending in politics is an existential threat to democracy. He is holding himself to the same standards that he preaches and is highlighting his commitment to reform by rejecting corporate PAC contributions. VanOstran supports the KOCH Act, which would require the FCC to demand that secret money groups disclose the names of major donors funding political ads.
OHIO-12:
Danny O'Connor (OH-12):
Danny O'Connor is running to represent the people in his district who have been ignored by Washington's rigged system. ECU is proud to be an early supporter of O'Connor. The grassroots PAC endorsed him in May and raised over $170,000 in small-dollar donations for O'Connor's campaign, making ECU O'Connor's largest fundraiser. ECU also worked with O'Connor to roll out his pledge to reject corporate PAC money. O'Connor incorporated his message of reform on the stump and in digital ads, helping draw the distinction between him and his opponent.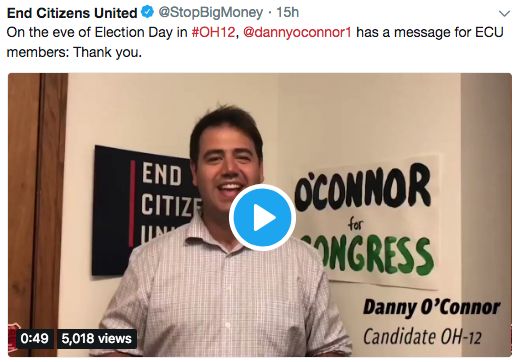 WASHINGTON:
Lisa Brown (WA-05):
Concerned by the flood of unlimited, untraceable money in politics, Lisa Brown believes that the new Congress' top priority in 2019 should be passing the DISCLOSE Act and overturning Citizens United. In the Washington State Legislature, Brown has a real record of supporting contribution limits and disclosure laws. She has also highlighted her commitment to curbing the influence of Big Money in Congress and her decision to reject corporate PAC money in a campaign ad.
Brown is running to unseat Congresswoman Cathy McMorris Rodgers, who is also a member of ECU's Big Money 20 target list for 2018. McMorris Rodgers defends a rigged system that puts mega-donors and the special interests above Washington families.
# # #